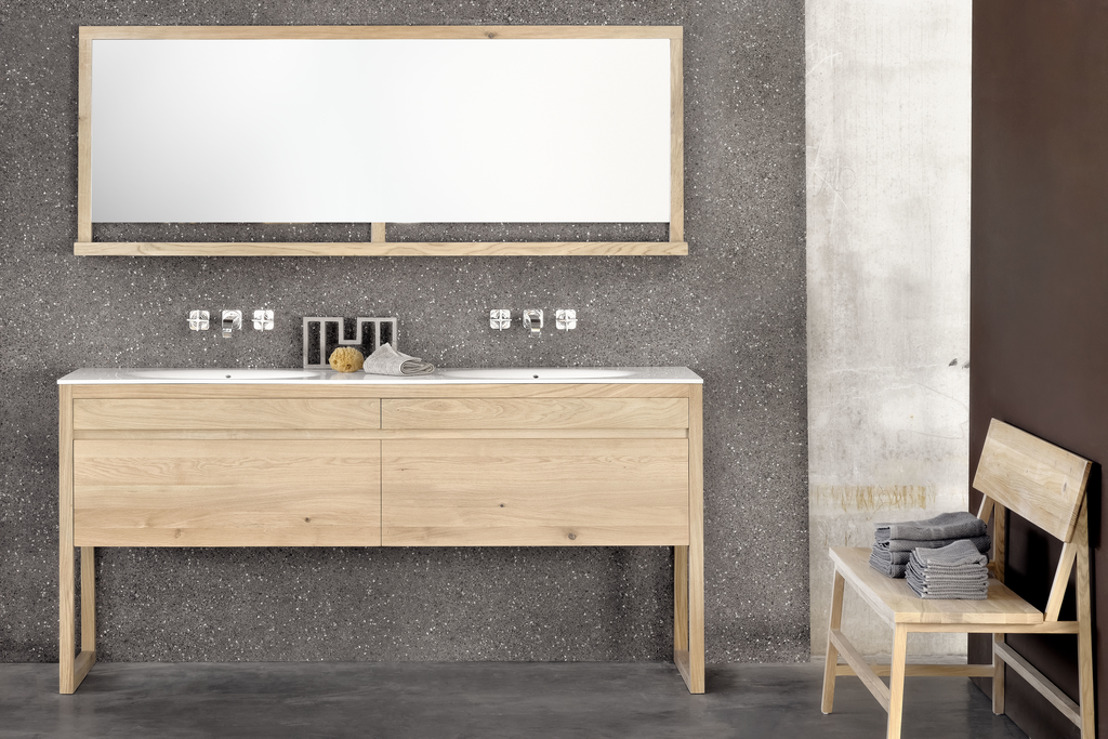 Ethnicraft Bathroom presents two new collections for 2017
Discover the LAYERS and CUADRO collections in solid oak
Thursday, April 20, 2017 — BOOM, BELGIUM – A subsidiary of the Ethnicraft brand, Ethnicraft Bathroom introduced the Layers and Cuadro collections during international design exhibition Batibouw, taking place on February 16 to 26, 2017 in Brussels Expo.
Diversifying its range, the Ethnicraft Bathroom came into realization in 2014. The new line brought the same contemporary aesthetics and values into a new environment. Simple, sober and refined, Ethnicraft Bathroom is precisely crafted to induce precious calm and warmth in a space dedicated to wellbeing and relaxation.
In 2017, Ethnicraft Bathroom counts seven bathroom environments and introduces two new ranges at prestigious design exhibition Salon Batibouw: The Layers and Cuadro collections. The two collections will also be exhibited in the world's leading trade fair for bathroom experience, ISH Frankfurt in March 2017 and IDEOBAIN Paris in November 2017.
New LAYERS collection
Storage columns with practical soft-opening drawers and stylish accessories in light oak are key features in the Layers collection. Letting solid oak reveal its natural beauty, pieces in the collection are left bare, dressed only with waterproof varnish to preserve the natural texture and colour of the wood.
The contemporary bathroom furniture is underlined by a removable structure in white metal, while surfaces and basins are made with high-end materials such as Avonite. Special considerations for space limitations are expressed with the option to hang the pieces on the bathroom wall or place them on metal legs.
The Layers collection are available in five measurements: 90, 120, 140 or 185 cm by 46, with single or double washbasins.
New CUADRO collection
A line of natural solid oak bathroom furniture and accessories, the Cuadro collection is ideal for smaller spaces. The washbasin measures a compact 90x55cm, and the unique design of the "floating" mirror incorporates a small shelf to store bathroom necessities. The wood in this collection is natural non-stained solid oak, specially treated to resist the rich moisture of the bathroom.
The Layers and Cuadro collections are designed to be combined and integrated with other ranges within the Ethnicraft Bathroom collection.
Download the collections' images in high res and discover our full presskits in EN, FR and NL below.